Tents Tables and More
Rent Tents, and Chairs near me
Rent Table, and Chair Rentals near me, Central PA
Table and Chair Rentals
3 Monkeys Inflatable provides rentals of tables, chairs, and tents to the Central PA area including York, Lancaster, Harrisburg, Hershey, Baltimore, Camp Hill, Owings Mills, Spring Grove, Ephrata, Reading, Towson, Dallastown, Red Lion, and more. The table and chair rentals near me that our company offers are sturdy and attractive commercial-grade plastic tables and chairs for the Table & Chair Party rentals needs. We offer chair rentals in black, brown, and white. We do offer the tables and chairs delivered, dropped off to you, and picked up for the price listed. We can also set up the tables and chairs and take them down for an additional fee. For convenience we also allow our customers to come to table & chair pickups at our shop.
Tent Rentals
We also carry commercial tent rentals. Commercial tent rentals are stocked in sizes 20x20, 20x30, and 20x40. Our Tent rentals are all white tents and we can set them up for you either staked in grass or asphalt. The asphalt setup is priced higher due to the extra time, effort, and labor it is for them to be set up. To rent a Tent rental with 3 Monkeys Inflatables, simply pick the tent size you are interested in renting by adding to your cart (don't forget about the tents, tables, chairs, concessions, and game rentals we have to add to your cart) and then simply add your booking details like your address, email, and phone number and complete the order with just a 25% deposit now with the remainder not being due until the day of your event. It's simple and easy! We have been been in business since 2013 so your order helps our small family business continue to thrive. We deliver and set up your party tents, table & chairs in a snap.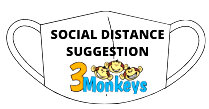 Tents, Tables & More Social Distance Suggestion: 3 Monkeys Inflatables staff when requested can completely set up and tear down your event rental tent, and table chair options with keeping within 6 feet social distance and wearing a mask while performing those duties. We also offer a sanitizing attendant that can be used to sanitize and clean the tables/chairs and tents in between uses during your event. We suggest that all tables/chairs are used with 1/2 capacity of the recommended table/chair accommodations to help with more social distancing.
Contact us
3 Monkeys Inflatables loves helping with planning parties, events, and table & chair party rentals near me. If you have questions you can give us a call at 717-650-7657 or message us at
info@3monkeysinflatables.com
Subscribe for videos! https://www.youtube.com/c/3MonkeysInflatables
Outdoor Party Specialists
We can help you create amazing outdoor party spaces with our tent, table, and chair rentals. Need more power? We have you covered there! Local parks and community outdoor space require that you provide your own power source for inflatables, 3MonkeysInflatables.com has power generators that are perfect for the job of keeping your inflatables inflated! Make sure everyone gets a seat at the table with party equipment rentals from www.3monkeysinflatables.com Browse the selections below and click on the title or image for more information and to make a reservation.


Santizer Table & Signage
We offer a
sanitizer table & Signage
available for your event rentals if you want us to supply these in front of each of your different activities. This provides peace of mind for you and your customers
Copyright © . 3 Monkeys Inflatables LLC. All rights reserved. Red Lion PA (717) 650-7657