Mobile Escape Room Rentals
Mobile Escape Rooms in Central PA and Northern MD
Mobile Escape Room Rentals

Mobile Escape Rooms are great for hosting just about any type of park or event because you get to bring the escape room to your location there for cutting down on the extra travel it would cost you to pay your team or school to head out to a location. This is extremely beneficial when you have camps, campuses, schools, daycares, group homes, big at-home parties, graduations, and fundraisers where you want it to be on-location activities. We have even gone to fairs and festivals. The great part is they are completely mobile we even have a tent version that can be played completely inside or our drive-up trailers allow us to park and play quickly. We can customize the play from 15-minute escape room puzzles to 30-minute puzzles. These are great for team-building and corporate events!

Mobile Escape Rooms Rentals offered from 3 Monkeys Inflatables & Entertainment. Mobile Escape Rooms are perfect for Corporate Events, Team Building Events, Mini Thons, College Events, Birthday Parties, School Fairs, and Functions, along with Fundraisers, Holiday Parties, and even Post Proms/Graduation Events!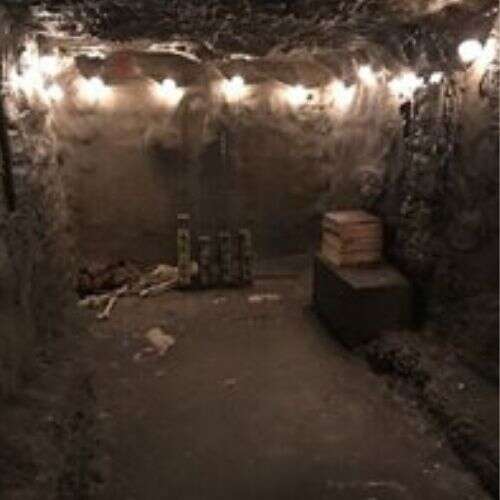 Temple Ruins Mobile Escape Room Rental
Temple Ruins is filled with creepy basement type of vibe that will have you excited and scared to find the clues to release the Golden Lion which will release you from the chamber!

You begin a room with a pile of old bones from a previous "guest" who was not able to escape... From old folklore, there is supposed to be a mystical golden lion hidden in the ruins, and accessing it will allow you to escape the chamber!

There are 8 total puzzles to solve in the room to release the hidden golden lion. This is a 30-minute room with an advanced level that we feel is intermediate/advanced. Do you and your team have what it takes to solve the clues?
Book the Temple Ruins Escape
Creepy Nursery Mobile Escape Room Rental
You are trapped in a creepy child's nursery by a madman who has left to take care of some unfinished business. You need to solve puzzles and unlock the clues to escape the clutches of the madman.

There are 4 puzzles in total to solve the room.

Teamwork is essential to solving the room and leading your team to success. Can you figure out the clues to escape before you become the next victim?
Book the Creepy Nursery Escape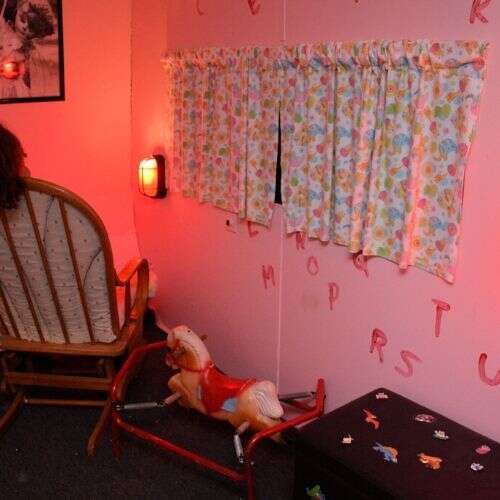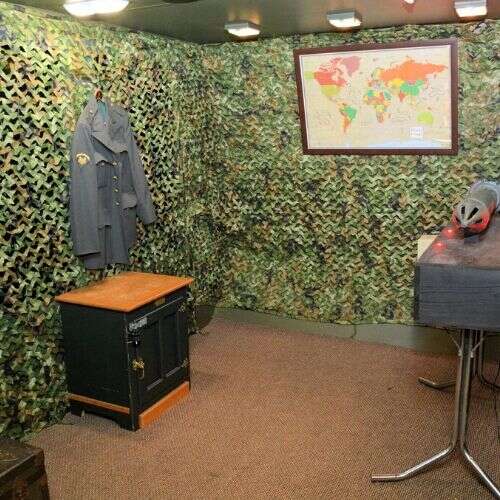 Military Mobile Escape Room Rental
The call has come in...Your team has infiltrated the enemy base and gained access to the missile launch room. The missile is set to launch at T-minus 15 minutes and aimed for Washington, DC.

You need to work with your team with complex puzzles, codes, and hidden messages before it's too late! Keen eyes and quick thinking are the requirements for this room.

There are 5 puzzles to solve to gain access to the key to unlock the missile launchpad and disarm the missile.

Will, you successfully disarm the missile and save the world from another missile attack? Will it be in time?
Book the Military Missile Mobile Escape Rental
Fortune Teller Mobile Escape Room Rental
The Fortune Teller Escape Room is a 30-minute room.

You want to see a fortune teller BUT during your session, she casts a spell on the parlor that traps you and your team inside with no way to escape!!! The only way to release the spell? Gain access to the fortune teller's crystal ball (did we mention she keeps this with her at all times?)

It will be difficult but if you work together as a team you might just solve the puzzles and escape the room!

There are 8 total puzzles to solve. Will you successfully solve the puzzles and escape or be trapped in the parlor for eternity?
Book the Fortune Teller Mobile Escape Puzzle Rental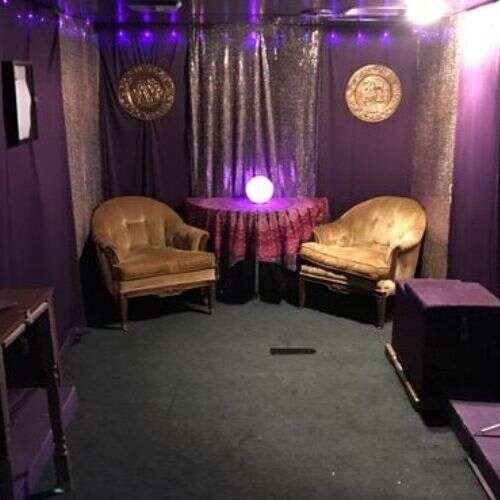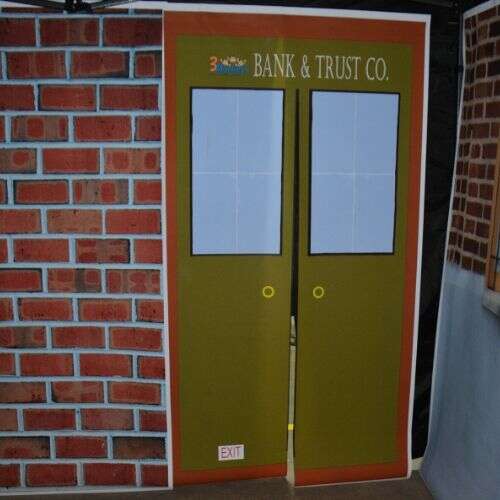 Bank Heist Mobile Escape Room Rental
The Bank Heist Escape Room is anywhere from 15 minutes to a 30-minute puzzle room.

You are arriving after hours at the bank and get into the bank with your team of bank robbers and the alarm sounds...you know you have limited time now to find the clues in the bank manager's office to get the code to the vault and quickly make your way out of the bank before getting caught! It will be a difficult and fast-moving escape but if you get out before getting caught!
Bank Heist Mobile Escape Room Rental
3 Monkeys Inflatables & Entertainment offers new exciting Escape Rooms in the mobile version. This is not some flimsy Inflatable Escape rooms or pop up tent that some companies will try to pass off as a fully functional escape room. This is a professional escape room that will allow your guests the opportunity to work in a team-building exercise that will offer fun, adventure, scares, and laughs!
Mobile Escape Rooms York
Escape rooms are a new popular trending item right now across the country allowing you to work as a team in a team-building environment with clues to solve a puzzle and defeat a room. These allow for tons of fun in York County where we come to your location and provide an escape room of your choice of our 5 mobile escapes.
Mobile Escape Rooms Lancaster
Escape room Rentals Lancaster is just another way we bring adventure, team building, and excitement to your front door! We bring our mobile escape rooms to your location whether it be for a backyard party, corporate event, team building event, or any other type of community or family event. There is a 5-minute setup and we are ready to play! Groups can be 4-8 depending on the escape room you choose. get your puzzle-solving skills ready for these awesome escape room rentals in Lancaster County.
Mobile Escape Room Rentals Harrisburg
The growing popularity has introduced these team-building puzzle-solving escape room rentals in mobile form. We will bring 1-5 mobile escape room options to your location and set up in about 5 minutes and be ready to play with your friends, family, and co-workers. The ultimate game of thinking, and solving clues while working as a team for the common goal to escape the room!
Delivery
3 Monkeys Inflatables Bounce House and Party Rentals deliver to many other Pennsylvania and Maryland cities including York, Lancaster, Dauphin, Camp Hill, Hanover, Spring Grove, Hershey, Dallastown, Shrewsbury, Baltimore, Towson, Owings Mills, Carlisle, Mechanicsburg, Pittston, Boiling Springs, Middletown, Millersville, Douglasville, Wrightsville, Woodstock, Manheim, Hummelstown, Dover, Birdsboro, Lakewood, Felton, Landisville, Camp Hill, Steelton, Delta, Kutztown, and Manchester.
For a map and complete listing of our delivery area outside of Harrisburg as well as pricing, visit our
delivery area
page on our website.