Xtreme Racing
Xtreme Racing Gaming Rentals York, Pennsylvania
3 Monkeys Inflatables is your Racing and Gaming Specialist in York, Lancaster, Harrisburg, and surrounding cities
Xtreme Racing Gaming Rentals are a fun interactive arcade experience in the luxury of your venue location or home. Race against your friends, family, or co-workers as you are sitting side by side with your competitors and seeing each other within the race and reacting in real-time! The video game race is similar to that you would have with the arcade-style races that you can sit side by side and race on the same course against your opponent. This is that type of race, so if you are a Nascar, or racing love this is a definite must-have gift and party superstar centerpiece! This is exhilarating, fun, and competitive, and a must-have at any type of event or party!
Xtreme Racing Gaming Rental Information
To rent an Xtreme Racing Gaming Rental with 3 Monkeys Inflatables, simply pick the Xtreme Racing Gaming Rentals you are interested in renting by adding to your cart (don't forget about the tents, tables, chairs, concessions, and game rentals we have to add to your cart) and then simply add your booking details like your address, email, and phone number and complete the order with just a 25% deposit now with the remainder not being due until the day of your event. It's simple and easy! We have been been in business since 2013 so your order helps our small family business continue to thrive. Thank you! Call or email us with any questions.
Call 717-650-7657 | 410-581-5867 or email: info@3monkeysinflatables.com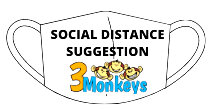 Xtreme Racing Simulator Social Distance Suggestions Tips: We suggest that depending on the seats you choose from 2-8 seat simulator seats that we socially distance them from each 2 seat setup as well as our attendants clean/sanitize the seats and controls in between participants. This takes little to no time to clean them and therefore you are ready to go quickly for your next group. We suggest either a participant sign-up sheet so you don't have as many people in the area you are holding the Xtreme Racing Seats or simple a 6-foot line suggestion with anti-bacterial hand soap for participants at the line.
Support your local business!
Check out our channel!
https://www.youtube.com/c/3MonkeysInflatables
Racing Rental Options
Race against one opponent or up to 8 opponents on a single race. Racers can choose the track they want to compete against and traditional other options like manual or stick shift and colors of cars and etc. This is a great arcade-style experience!
Arcade Experience
3 Monkeys Inflatables and Entertainment is always striving to bring the arcade experience to our customers in entirely new ways. With Xtreme Racing 2.0, we've done just that! Up to 8 players can race at a time in this sit-down racing simulator featuring the latest technology to make every second as realistic as possible. If you are interested in having a Racing Gaming Event please reach out to us at
info@3monkeysinflatables.com
or call 717-650-7657 so we can provide you with an individual quote based on your location/travel.
Service Areas
3 Monkeys Inflatables is your Central Pennsylvania and Maryland Xtreme Racing Gaming Rental Specialist for cities of York, Harrisburg, Lancaster, Dallastown, Camp Hill, Carlisle, Reading, Baltimore, Owings Mills, Frederick, Towson Hagerstown, Reading, and many more.