PA Fall Festival Rentals
The Best Fall Festival Rentals in Central PA and Northern MD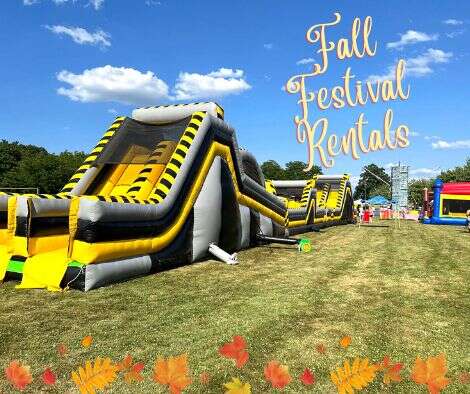 PA Fall Festival Rentals with 3 Monkeys Inflatables gives your fall festival attendees the opportunity to participate in a variety of different activities. Fall is one of the most loved seasons in Pennsylvania. The heat breaks, the cool weather moves in, the leaves change, and families seek out Fall Fests, Autumn Festivals, Fall Festivals, Harvest Festivals, Apple Festivals, and Pumpkin Patches. Memories can be made with the different rental options offered by 3 Monkeys. We have some amazing, large, centerpiece rental items such as a Portable Rock Wall Rental, Mobile Zip Line, Bumper Cars, a Mechanical Bull, large Inflatable Obstacle Course rentals, and even the Twin Spin!

Our goal is to have you, as the coordinator, be the superstar of your Fall Festival. Our event specialists will help you choose the perfect rental items to keep your guests entertained, happy, and having the time of their lives! Let us know what ages you are looking to entertain, the space you are working with, and what your budget is and we can build you the perfect package for your Fall Fest!

Why Choose 3 Monkeys Inflatables?

Over the past two seasons, we have learned that a lot of companies have closed their doors or will schedule events and then cancel on their customers last minute. 3 Monkeys Inflatables is a family owned business and thanks to our loyal, repeat customers and new customers, we have been in operation for more than 15 years! We plan to be in business for many years to come and do not have a history of canceling on our customers. In fact, we are the rental company people call when they are in jam due to a canceled order and while we cannot always squeeze you in, we sure will take a look at our schedules to see if we can save your event.
Planning the Perfect Harvest Festival
Choosing the perfect Fall Fest Event Rentals is very important for the success of your event. Quite often you will see a 'Kid Zone' at Festivals in the Fall. Complete your Kid Zone with fan favorites such as bounce house rentals, blow up obstacle courses, toddler inflatables, blow up slide rentals, and carnival game rentals. Add some real 'wow-factor' items like the Trackless Train, Wax Hands, Mobile Escape Rooms, Mobile Gem Mining, Mobile Axe Throwing, Rock Wall, Euro Bungee Trampolines, Mechanical Bull Rides, and more!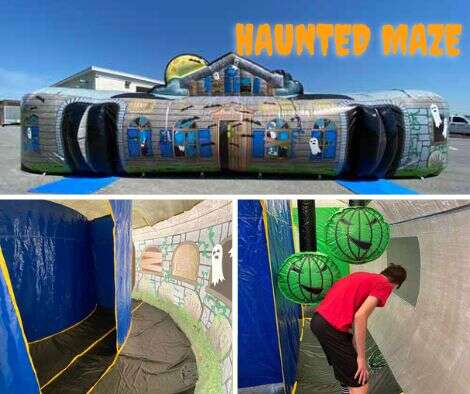 Inflatable Maze
This inflatable haunted house maze is one of our most epic fall rentals. Step into the maze and make your way through it until you find the exit, all while dodging inflatable pumpkins, blow up ghosts, and other fall decor. Fun for children and adults. Great for Nerf parties too!
Haunted House Maze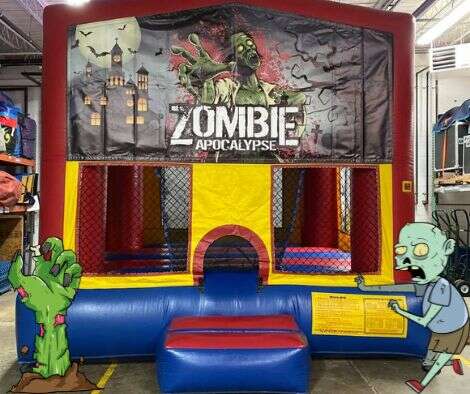 Fall Bounce House
The zombie banner can be used on the modular moon bounce or the modular bounce house and slide combo. These units are perfect for any Fall or Halloween-themed party. Plenty of bouncing area with large, netted windows for parents to view their children.
Zombie Bounce House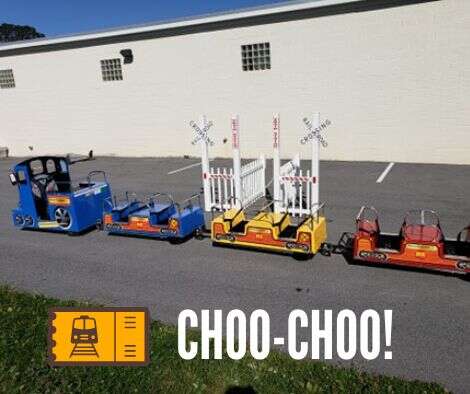 Trackless Train
"Choo-Choo!" The Trackless Train rental makes a wonderful addition to any Fall Fest or Apple Harvest! This train rental comes with three cars for children to sit in (can seat a few adults at a time) and a locomotive where the Conductor will sit to operate the train.
Electric Trackless Train
Delivery Area
Our main delivery area is all of Central PA and Northern MD. But, that does not mean we won't come to your city too! There is often a travel fee as well as an order minimum requirement (prior to any taxes or travel fees) that is determined according to how far your location is from our warehouse located in York County, Pennsylvania. Some of the cities that we frequently deliver to include York, Glen Rock, Brogue, Lancaster, Lititz, Manheim, Mohnton, Harrisburg, Carlisle, Mechanicsburg, Baltimore, Bel Air, Freeland, Westminster, Hunt Valley, Cockeysville, and other surrounding cities.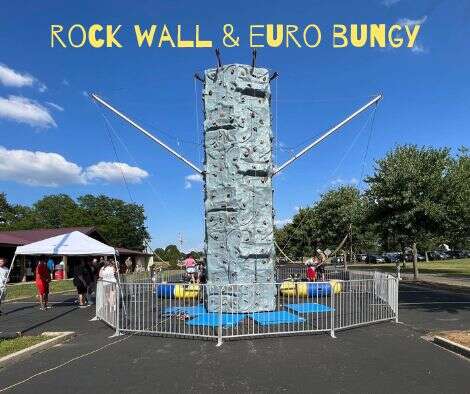 Rock Wall and Euro Bungy
Making a fantastic centerpiece at any event is our Mobile Rock Wall and Euro Bungy Rental. This is a 4-person Rock Wall rental with different levels of difficulty on each climbing side. Climbers will be placed into a safety harness by one of our trained Rock Wall operators and connected to the auto-belay system that will allow them to safely climb as high as they can go and slowly propel back down to the ground. Pair the Mobile Climbing Wall with our Euro Bungee Trampoline Jumpers that come as a set of two which now allows for a 6-person activity. Another trained attendant will run the bungee jumpers and keep them motivated and having fun. Most participants want to be able to flip around so the attendant will instruct and encourage them so that can try to successfully flip!
Mobile Rock Wall Rental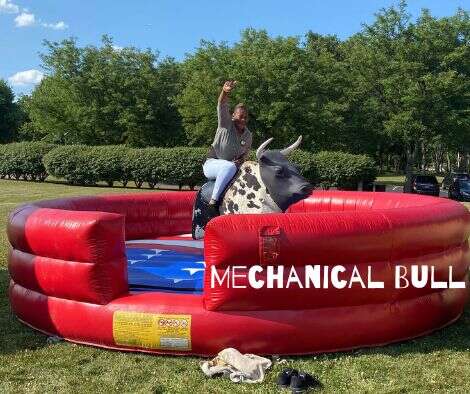 Mechanical Bull Rental
Mechanical Bull Ride Rentals are so much fun for children and adults alike! Our Galaxy mechanical bull is made with real hide, soft horns, a soft head, and an inflatable lading pad for safe landing when the rider falls off the bull. The mechanical bull rental comes with a specially trained operator who has gone through manufacture training and they will stay with the rental from the start of the event until the end. One rider at a time will mount the bull and begin their ride at a slow, safe speed. Often those who make it at least 15 seconds will advance to the next speed where the ride becomes a little more challenging. The mechanical bull ride will draw a crowd to your Fall Festival for sure!
Rent Mechanical Bull