Mechanicsburg Rock Wall Rentals
Rent a Rock Wall near Mechanicsburg
Renting a rock wall in Mechanicsburg for your party will be a game changer for your event! If you want something to really, "WOW" your guests this climbing wall will do just that! It stands 24 feet tall and has a total of 4 climbing sides, each with a different level of difficulty. Our rock wall usually pairs with the two euro bungee jumpers, so that there are then 6 activities instead of just 4! You can rent these items individually but why not add more fun for a small fee of $500.00?

The rock wall rental does include specially trained operators to run the climbing wall activity from the start of your event until the end. The rock wall is priced for an event up to 4 hours long but we can stay longer if you want! There is an additional fee, per hour to run the event past the initial 4 hours. For a complete quote please contact our office by calling 717.650.7657.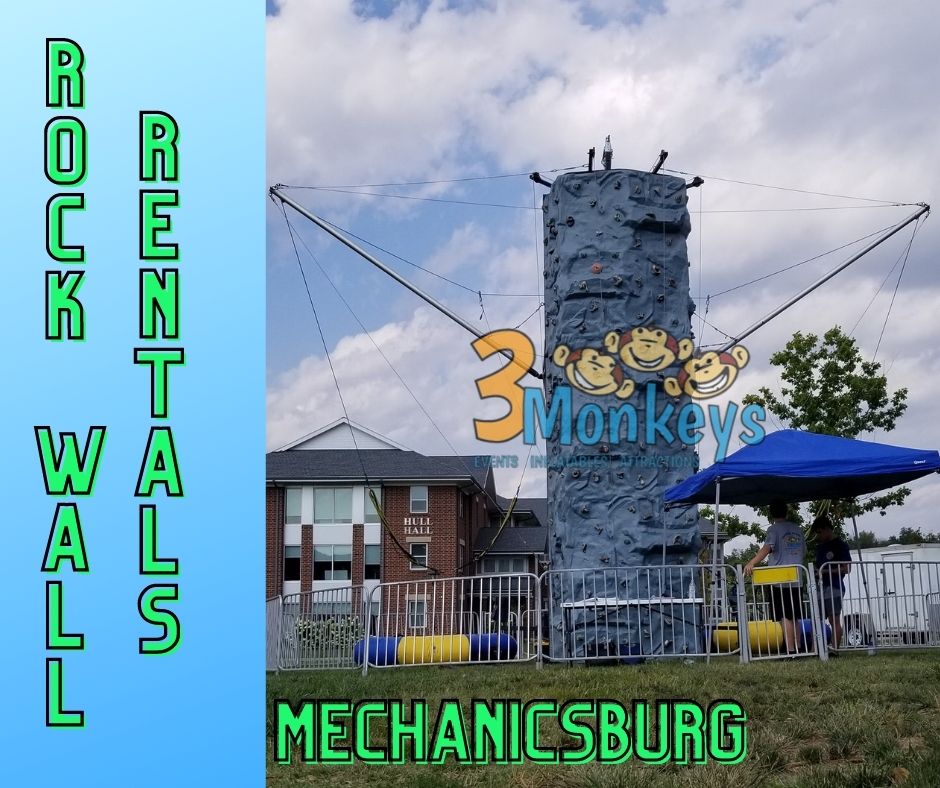 Mechanicsburg Climbing Rock Walls
Rent a climbing wall to amplify the fun at your next event. Our rock climbing walls are fun for both children and adults. Climbers will put on a safety harness and be clipped to the auto belay system before the begin their climb to the top of the rock wall. There are climbing handles for climbers to grab onto and step onto as they make their way up. If they are successful and make it all the way to the top of the wall they have the opportunity to hit the button which will sound a horn to announce their success! Then they begin their decent safely down the wall with the use of the auto belay system.
Book Now Mechanicsburg Climbing Wall Rentals
What other party rental items can I rent near Mechanicsburg?