Cinnamon Sugar Option Kit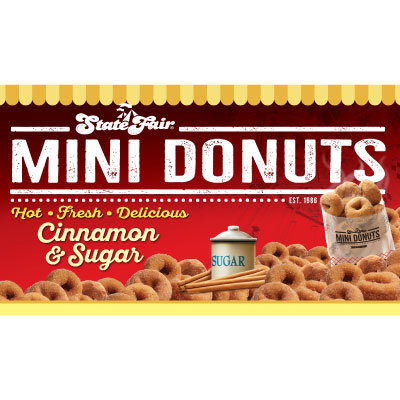 Description
Cinnamon Sugar Option Kit
3 Monkeys are proud to offer Cinnamon Sugar Mini Donut Rentals in York, Lancaster, Harrisburg, and surrounding cities.
Kit details
The Cinnamon Sugar Option Kit comes with 35 donut bags, a cinnamon sugar mix, and 1 full carton of mini donuts for a total of 70 donuts. We suggest that a kit will make 22-35 servings depending on how many donuts you are putting in each bag. Our recommendation is 2-3 mini donuts per bag. Please understand that you are not able to add your own mix to the machine as you must use our mini donuts and purchase the kits if you need additional quantities. The Cinnamon Sugar is our traditional mini donut flavor that most people think of when they think of mini donuts.
Ready to book?
Keep in mind this is an additional kit so you will need to have rented the State Fair Mini Donut Machine Rental which does come with a full kit with that rental and this would be just additional quantities you may need for a larger group or more donuts per person. We have 3 varieties to choose from in flavor choices. You can choose the Apple Cider, Salted Caramel, and of course this option of Cinnamon Sugar. All 3 options are amazing in their own right and it really comes down to personal preference on the flavor profile that will be best for your group!
Training
We do offer a training video for you so you are ready to go and know how to operate the State Fair Donut Rental for your party or event. That is available on youtube for your convenience to watch it. We will also go over the safety instructions as well as the operations with you on-site as we always do with all of our equipment rentals. Safety is a concern with our concession equipment and because it generates heat we suggest you designate an area that will be monitored by adults at all times and that you only have adults operate the donut maker concession rental. This is best on a higher counter that is stable and secure and out of reach from toddlers or children who may not know not to touch the oven.
Rentals
We have tons of other concessions rentals, tent rentals, table & chair rentals, game rentals, inflatable rentals like bounce houses, water slides, obstacle courses, interactive inflatables, rock walls, euro bungee, escape rooms, axe throwing trailers, trackless train, and so much more! We have over 350+ items in our rental inventory just waiting for you to explore our website and find the new, exciting, and competitive items we have available. We thank you for your time spent today on our website and hope you consider us for your next rental and give us a call with any questions you might have at 717-650-7657 or 410-581-5867.