Rainy Day Alternate Activities
3 Monkeys Inflatables is your Rainy Day Game Rental Alternative serving York, Lancaster, and Harrisburg
The date you have been waiting
for
eagerly
for
your event is arriving and the weather is looking really crummy! What do you do? First, you need to determine if you already set a rain date
for
your guests. If you do that is great! Get in touch with our office
here
and let us know you are concerned with the weather. We encourage you, however, to get online to
weather.com
and go into the hourly weather and ensure that the weather is definitely going to be a rainout day. If you see that the rain and/or heavy winds are 60% or more
for
the extent of your party then you definitely should consider rescheduling your party, unless of course, you love the idea of letting the kids play in the rain. As long as there is no thunder and lightning if you want to allow the kids to play in the rain that is perfectly fine to do on our units. In fact on the waterslides it is quite a bit of fun to tell the kids " Yes, not only is your party still happening. Your party is now a rain party" - how fun to allow them to play in the rain since the temps are warm over the summer it really doesn't hurt to have this, and the excitement of kids being able to play in the rain which is typically a no-no on a regular day becomes a special memory about that time they played in the rain
for
the birthday party or event. Something to consider when you are up against something that seems like a challenging situation that might end up having you make lemonade out of.
If you have no rain date and you are a definite no to playing in the rain - bummer! However, we have some great ideas for you to still have things for the kiddo's and participants to do that will allow you to still have an amazing party/event to celebrate with but will just have you thinking outside of the box of other ideas. Of course, at 3 Monkeys our goal is to have every event be amazing whether sometimes it's a challenge to find the amazing elements - We have set forth to this challenge and tackled it for you by putting together an amazing list of our Top 10 Rainy Day substitute activities!


Let the countdown begin: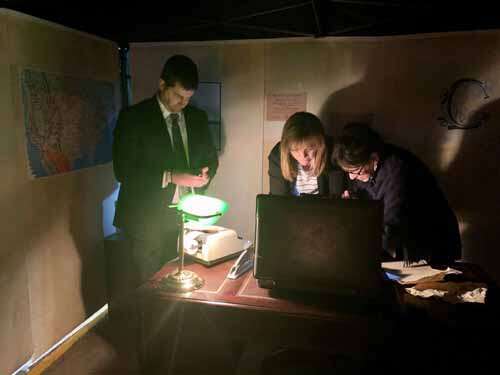 1. Mobile Escape Rooms
We have 4 different mobile escape rooms where we come to your location with a very short time for setup we are ready to welcome your guests to work together with clues in the rooms to ultimately escape the rooms. We have our Temple Ruins Escape room which is one of our 2 most complex rooms to escape. This is one of our favorites with the immediate vibe of being in a dark cave searching for your clues comes over you when you step into the room. The puzzles are fun and just brilliant in the way they build upon the team working together. Another fun and complex escape room we offer is our Fortune Teller Escape Room which literally will have you wondering if you just stepped into a fortune teller pallor to have your palm read. It's amazing how you will feel the room excitement when you enter to figure out the clues to battle this room and win! Our two 15 minute rooms that are compromised together are our Military Theme Escape Room and our Creepy Nursery Escape Room. These two rooms offer 15-minute escape rooms that will have puzzles that are beginner-level puzzles. It's the perfect start and introduction to the Escape Room phenomenon. These rooms put you into a Nursery where you have to escape the room before the homicidal maniac returns and disarm the missile to save the world in the Military themed room. Your choices are clear to make this an amazing event you can easily adapt and get disappointed guests excited about the rainy day by substituting our amazing indoor portable mobile escape rooms.
Book your Escape now!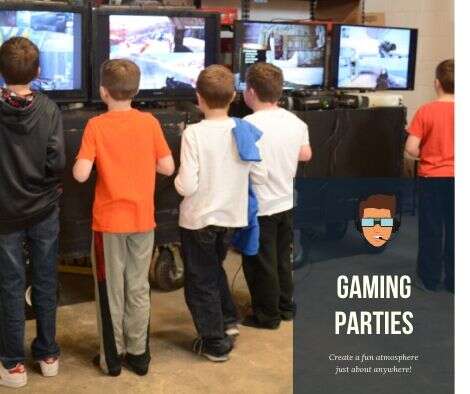 2. Gaming Parties
Yes, we do have some amazing gaming parties that we can bring and set up it in just about any type of location indoors. We can bring along a large number of games and systems to mix your event up with some of the favorite sports, action, and popular games or you can give us a specific list and gaming systems you prefer and we can create the perfect gaming option. We can feature these on large screen tv's or if you have space they are amazing viewed on our inflatable movie screens. Our 9.5' x 12' Video Screens with actual screen size of 6' x 9.5' wide.

We can set up the tv stations or gaming screens in your garage, living room, church location, fire hall, or community center!
Gaming Parties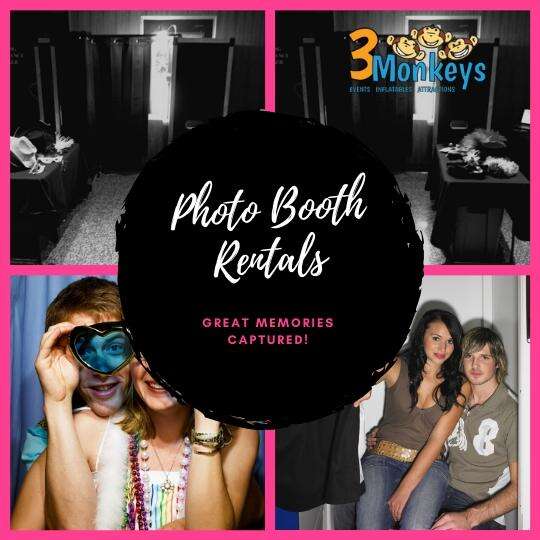 3. Photo Booth Rentals
Capture the entertainment and fun of the party/event with our Photo booth rental. We can customize the background colors and content with logos, dates, and just about anything so that each picture has the memory of the event attached to it. We provide fun props like hats, boas, wacky glasses, and more to make this a fun interactive photo booth event. The best part is the pictures are unlimited so use as often as you want and we will provide you with a CD for memories of your fun event at the end of the party.
Photo Booth Rentals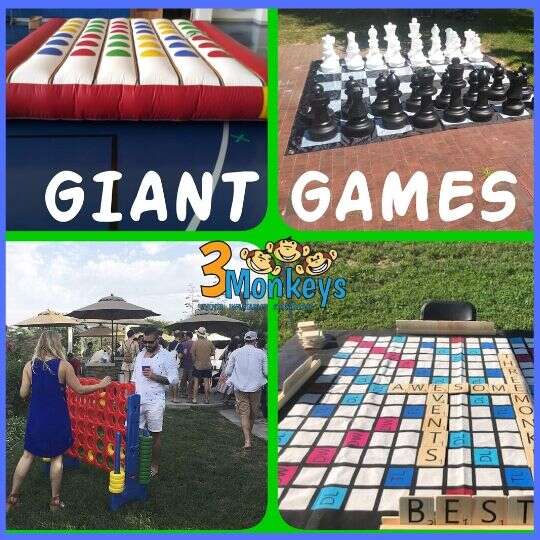 4. Oversized & Giant Game Rentals
We have some fun and amazing oversize games that will get your guests pumped and excited about the party! Check out some of the following amazing games: Oversized Chess, Connect 4, Yard Pong, Ring Toss, Twister, Basketball Toss, Pin Art, Giant Jenga, and many more!
Giant Game Rentals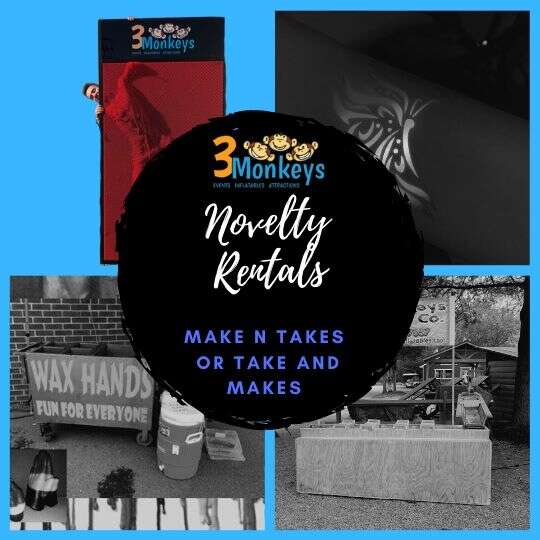 6. Novelty Rentals
Novelty Rentals and Make and Take Rentals are great for fairs, festivals, college and church events and even birthday parties! They offer fun, unique, challenging, and the chance to be creative.

We have tons of Novelty Rentals to choose from like our Wacky Golf, Interactive Play System Cone, Massage Mats, Sand Art Frames, Oxygen Bar, Tattoos, Glow Body Art, Billiards Golf, Wax Hands and Pin Art. The Make and Takes is ever growing and you can choose from fun items like our Sand Art Bracelets, Painted Rocks, Make your own Stress Balls, Essential Oil Makes/Takes, Glow Air Brush Body Art, Sand Art, and Sand Art Frames.
Novelty Rentals book now!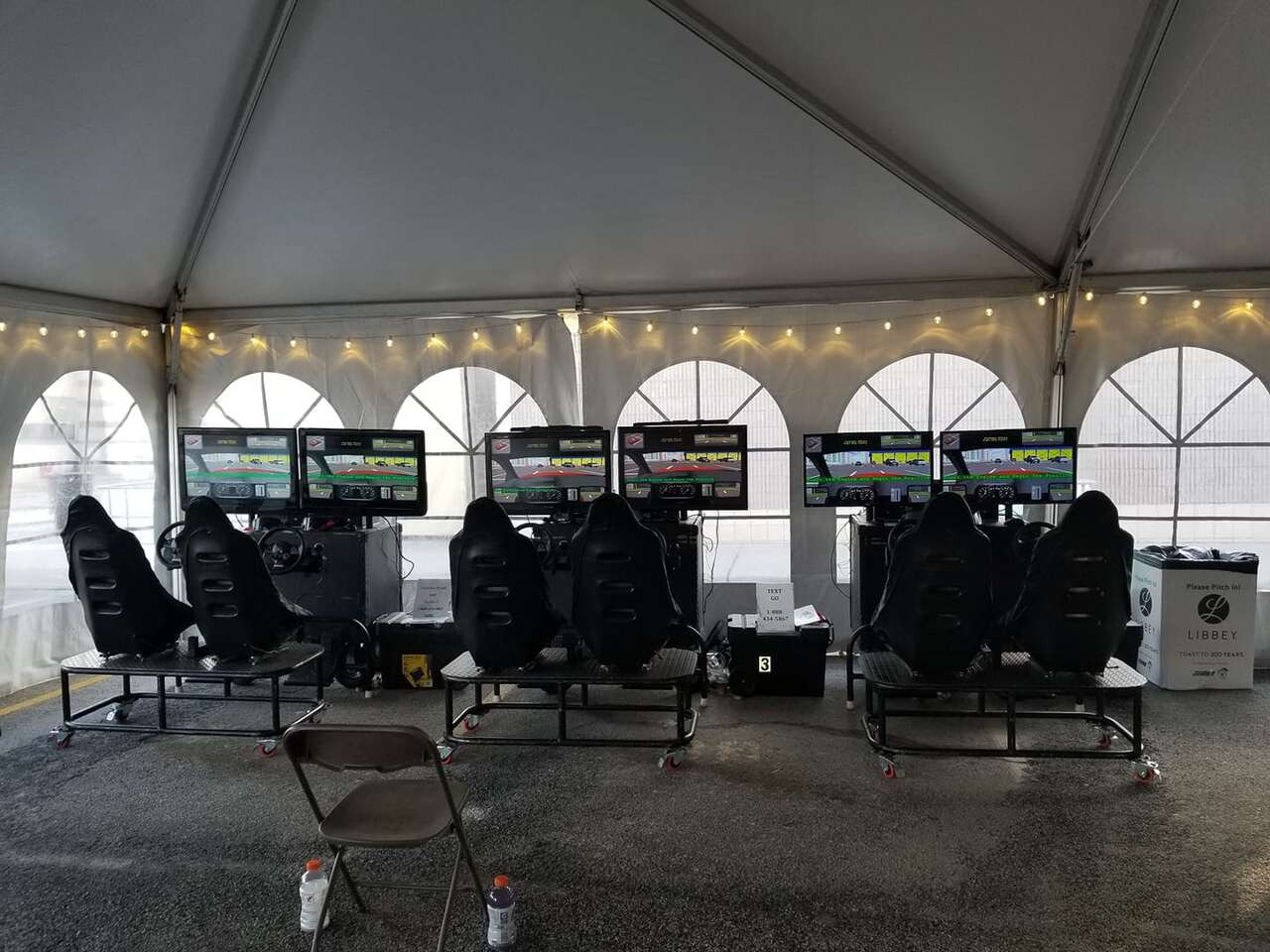 7. Extreme Racing Simulators
Extreme Racing Simulators are really fun to play with you're groups where you can race from 2 players to 8 players on the same racing platform. Think of the fun you will have while racing against your friends in this real feel arcade style racing platform!
Racing Rentals book now!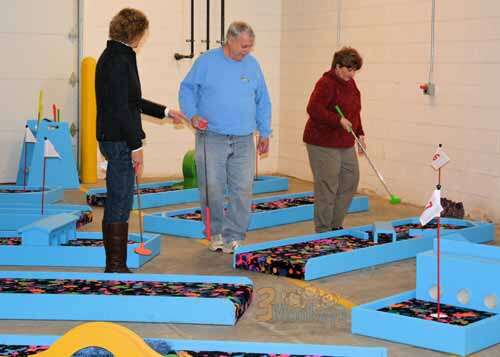 8. Mini Golf
Mini Golf can be rented from 1 hole to 9 hole Mini Golf series. We also offer Wacky and Billiard Golf.
Mini Golf Rentals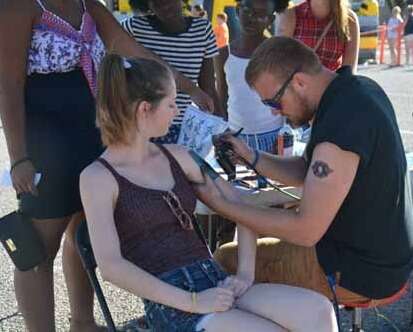 Air Brush Tattoo
We offer air brush and glow air brush tattoo for your party or event rentals.
Air Brush Tattoo