Event Equipment
Event Equipment York, Pennsylvania Area
3 Monkeys Inflatables is your Pennsylvania and Maryland Event Equipment Specialist for cities of York, Harrisburg, Lancaster, Camp Hill, Carlisle, Reading, Baltimore, Owings Mills, Frederick, Towson Hagerstown, and many more.
3 Monkeys Inflatables offers a huge selection of event equipment rentals from Tents, Tables, Chairs, Sounds Systems, Generators, Gas Refills, Tent Lighting, Grills, Misting Machines, and Misting Tents! Our delivery area is pretty huge as we deliver to York, Lancaster, Harrisburg, Reading, Baltimore, Hershey, and most of the PA and Northern Maryland area.
Event Equipment Rental Information
To rent Event Equipment rental with 3 Monkeys Inflatables, simply pick the event equipment you are interested in renting by adding to your cart (don't forget about the tents, tables, chairs, concessions, and game rentals we have to add to your cart) and then simply add your booking details like your address, email, and phone number and complete the order with just a 25% deposit now with the remainder not being due until the day of your event. It's simple and easy! We have been been in business since 2013 so your order helps our small family business continue to thrive. Thank you! Call or email us with any questions.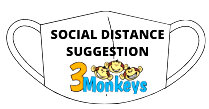 Event Equipment Social Distance Tips: Our Pole Tents, Generators, Table & Chair Rentals, along with Grills and Tent Lighting are all professional cleaned with an approved covid cleaner that will allow you to enjoy your events while we utilize the space throughout your location to social distance the table & chairs to smaller groups. With Tables and Chair instead of putting 6-8 chairs at an 8-foot table, we would suggest 4 per 8-foot table allowing for only small group activities and eating and suggest that when participants are not eating they are masking up and having stations throughout your event with anti-bac readily available for guests. For suggestions on items that are perfect for social distance events please visit the FAQ page of our website along with our Events Page.
Call 717-650-7657 | 410-581-5867 or email: info@3monkeysinflatables.com
Support your local business! Please subscribe for fun & informative videos! https://www.youtube.com/c/3MonkeysInflatables
Whatever type of event you are planning we have the event equipment to ensure you are covered. We can provide everything from Tents, Tables, Chairs, Concessions, Generators, Sound Systems Tent Lighting, Pop up Tents, Misting Tents, extra gas, and so much more! We can set up inside, outside on grass or asphalt.

Catering available!

We also offer Picnic Foods available like hamburger, hot dogs, baked beans, cold salads, individual bagged chips, canned sodas, and bottled waters along with the tables, chaffing dishes, grill and linen on the serving tables to ensure your Corporate Event, Open House, Graduation Party, or even Backyard party is a huge success. We can customize the menu to ensure you have the best menu available for your guests.

Tents, Table, and Chair Rentals

We offer all types of size tents from pop up to complete Pole Tent in different sizes, along with Table and Chair rentals that you can choose your chair colors from black, brown and white. These are perfect for backyard parties all the way up to corporate events depending on how much space you need covered.

New items coming all the time!

Please watch as this category continues to grow as we add new items to this page. We continue to strive to be your one stop shop so if there is something you are looking for that we don't have available please email us at info@3monkeysinflatables.com with your request and we can let you know if it is something we have coming or something we might be able to add to the inventory.
Copyright © . 3 Monkeys Inflatables LLC. All rights reserved. Red Lion PA (717) 650-7657