Discover Exciting Community Events Ideas to Bring Your Neighborhood Together
3 Monkeys Inflatables
Creative Community Event Ideas to Foster Unity and Fun
Are you searching for a community event rental company near you? Well, search no further. 3 Monkeys has been in business for over a decade and a half, providing not only large and small community events near me, but re-inventing the industry by bringing new and customer favorites to our inventory encouraging our customers to share with us what they are looking for, and constantly evolving our packages, and content to give our customers what they want. Community Events are a great way to bring communities together for parades, concerts, reward events, street fairs, festivals, sports events,community food distribution events, community service events, and all community events. Choose to add 3 Monkeys Inflatables to your community events calendar for festive and fun activitiy to draw your community in together. We realize you have choices when it comes to planning for your community event, and our goal is to make it not only easy with a well formated website to help you navigate and find ideas easily, but to provide awesome equipment, some unique and some just good old fashioned customer favorites that you come back over and over for. Pair that with our amazing team, that we know is hard to find these days and you are sure to have an event to be remembered! We are just a phone call away if you need help planning and not sure what direction you want to go, we will talk through with you about your event, and who you are planning it for, and what goals you want to accomplish with it, and if you want all varied age items, or tailored to specific participants, and come up with a package that we truly believe can't be beat. Trust us to create those great ideas for community events, memories and we promise we will not disappoint you on the day of your event. We show up on time, and setup in record speeds, as well as our guys being knowledgeable, friendly and overall a great team. Take a look around at all of our products we can provide, and understand this is just a tip of the iceberg as our inventory is the biggest and best all across PA & MD.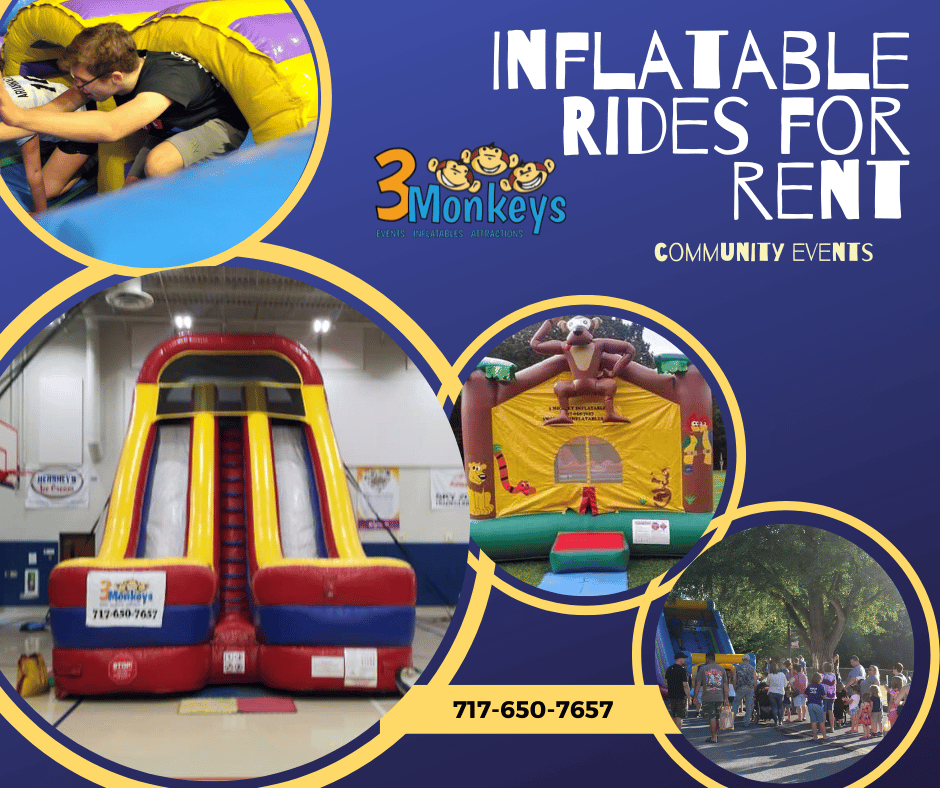 Inflatables Rides
If you are planning a community event we know for sure you will need some inflatables, big or small events typically have a least a few pieces of inflatables to cater to the small kid crowds!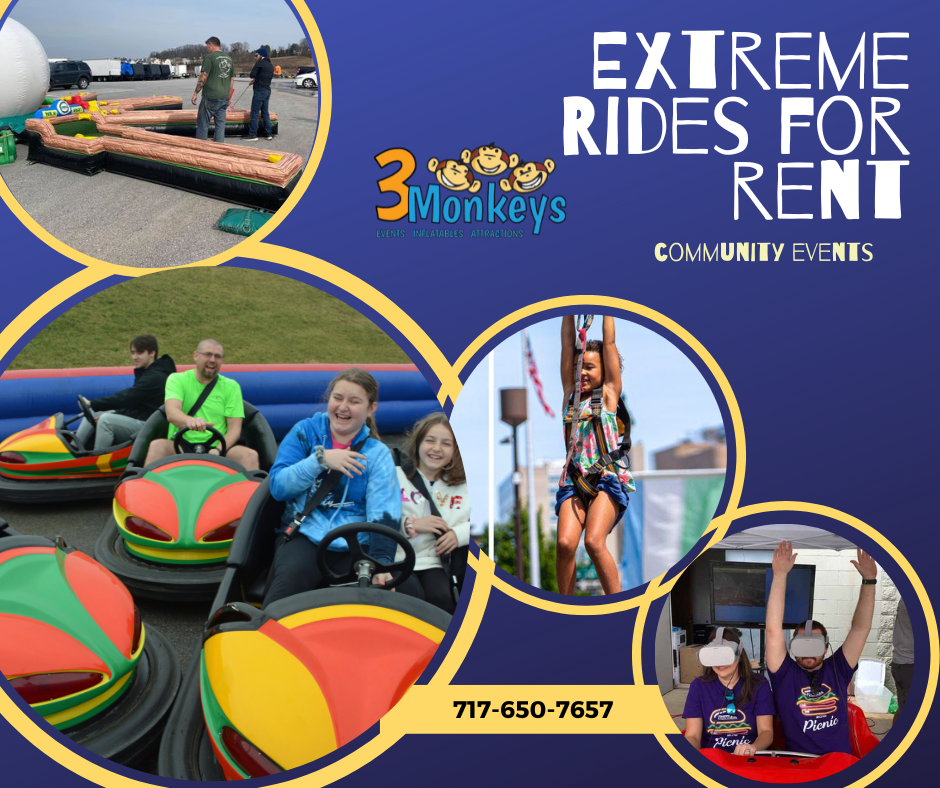 Extreme Rides
Our Extreme Ride Category has some of the head turner items like Rock walls, Zip Lines, Bumper Cars, Zorbs, Bull & Train Rentals, to just name a few.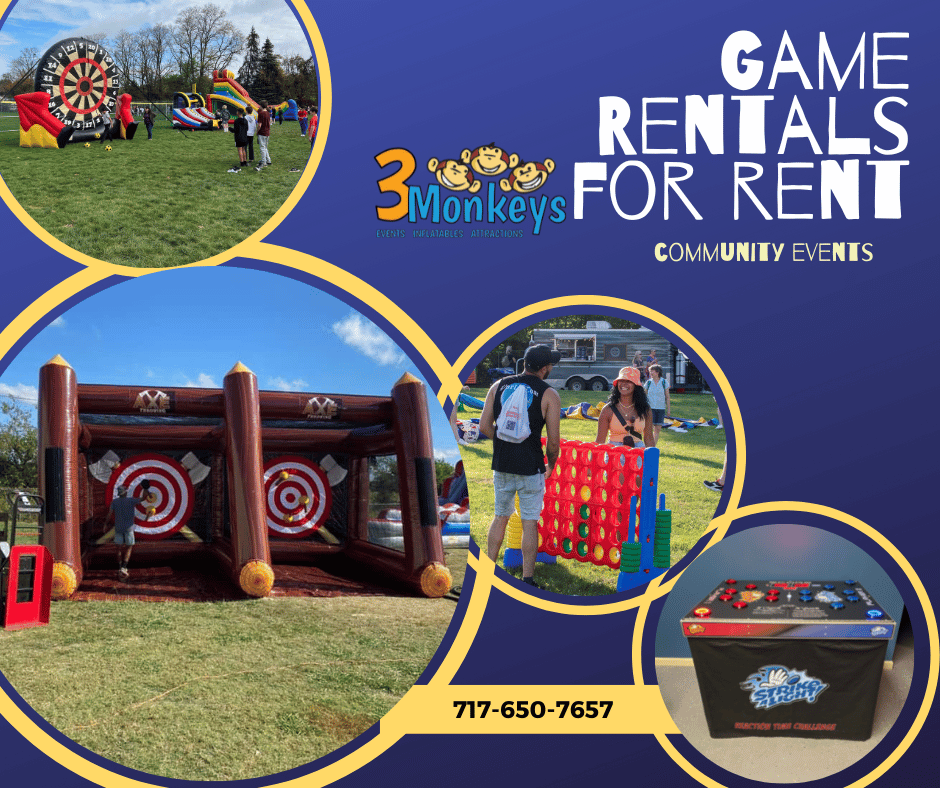 Game Rentals
Games are very important for all age groups at a community event, especially if you plan on giving our prizes (as simple as trinket or as elaborate as stuffed animals) We provide inflatable, yard, giant, and carnival game rentals!
Tents, Table & Chair Rentals
3 Monkeys Inflatables can provide you with Tents, Table & Chair Rentals for your community events. We offer Pole Tents with sides and without sides for your convenience depending on the type of event you are having. Chairs comes in many colors, and tables are meant to be used with some type of linen over them.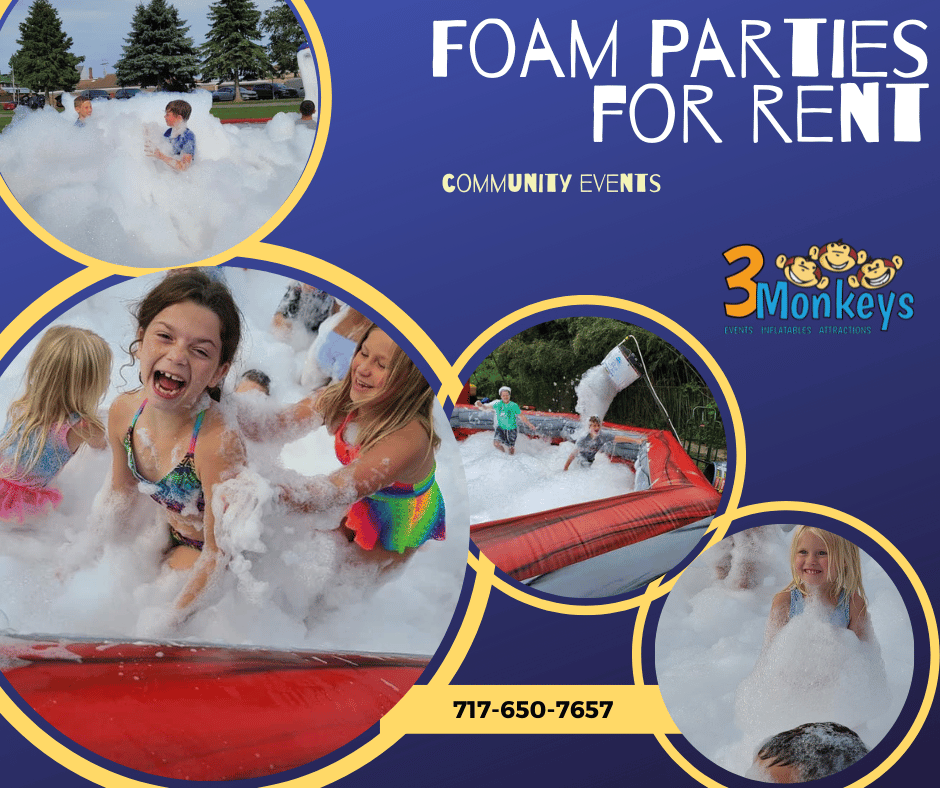 Foam Parties with blacklight options
Foam Parties are popular to draw in kids and especially popular with teens and young adults crowds. This is great with music playing and some fun lighting can even add to the ambiance of the event, think about a dance floor made of foam to dance, play, and just enjoy each other in a silly way!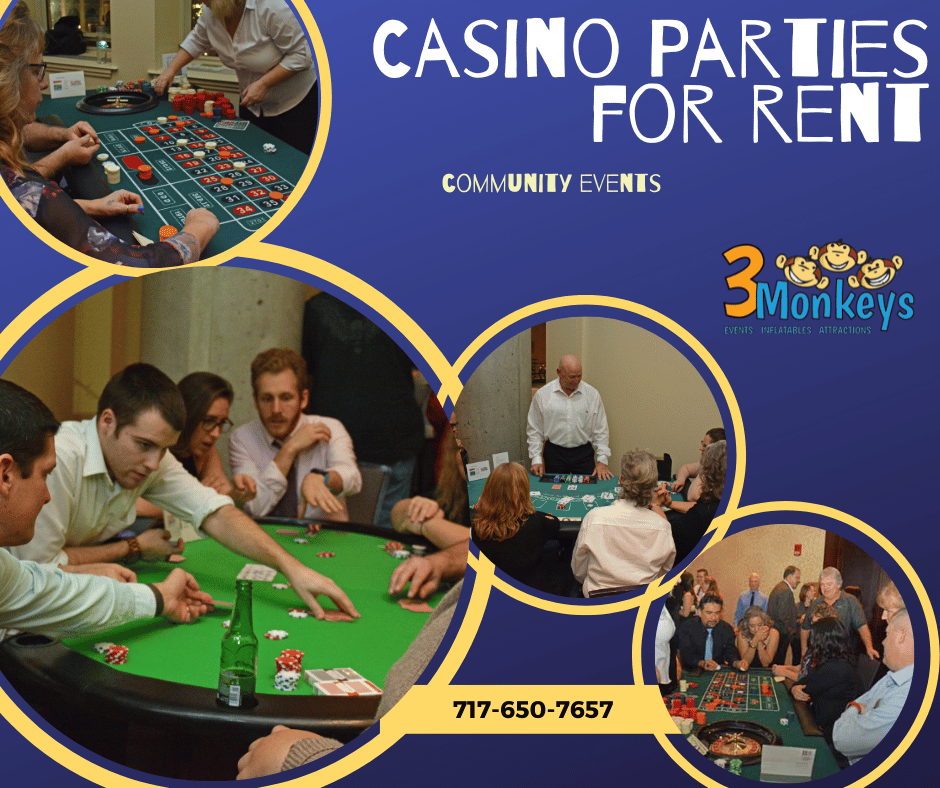 Casino Tables & Party Rentals
Some Community Events are looking to have a more elaborate type of footprint to them, that's where our Casino Parties and Table rentals come into play big time. We can provide dealers, cards, and all equipment needed for our published pricing. If you want to go it on your own and rent just the tables you can certaintly do that by contacting us directly for an updated pricing structure.
Community Events and Brainstorming Ideas
Finding the right items for your community party is always fun, but sometimes we realize our customers are balancing so much on their plate that they want ready-made packages waiting for them to see some ideas, or simply just click and add to their carts and get it done. Below we have some starter packages with ideas but the list can go on and on. If you know things you would like for your community events, of course just email us the list with your email address, and your event information, along with your budget for this portion of your planning and we will create some packages that we hope will blow your mind and see what easily what type of things we can do. Let us know if you need Tents, Tables, Chairs, Concessions, or even catering as we offer all of those items in a package. You can always call our office at 717-650-7657 anytime Monday- Friday 9-5 pm, or leave a message on the weekend for our staff to return your call. If it's easier to email simply email info@3monkeysinflatables.com and we will be sure to get back to you with some package ideas!
Small Community Event Rentals
We can customize this to any budget or rental items. This is a example of all sorts of inflatable jumpers, in addition to some game rentals paired for a community event with all age groups present.
Send us an email
Medium Community Event
In this Medium sized Community Event example we feature inflatable slides, obstacles, train rental, bumper cars, make & takes, and even some hard rides

Call us! 717-650-7657
Large Community Event
Large community events can include ticket booths, games, trains, table and chair rentals, zip lining, and so much more!

Place your order
Suggested Add-Ons for your Community Event Rental
3 Monkeys Inflatables is the area leader in being a one stop shopping experience with everything from you basic inflatable rides, through slides, water slides, obstacle courses, toddler jumps, interactive inflatable, game inflatables to interactive inflatable & ride experiences like our popular mobile axe throwing rentals, rock climbing wall rentals, euro bungee trampoline rentals, mechanical bull riding rentals, bumper car rentals, Zip Lining Rentals, trackless train rentals, Foam parties, Zorb hampster ball rentals, Wrecking Ball, Grand Slammers, our big red baller, the multi-sports arena, and so much more. Our add-ons become endless when you are planning your events to a point that we even offer Catering, and Fun Food Concession Rentals as well. The fun never stops at 3 Monkeys Inflatables and we look forward to making your event the best it can be for years on end!
Contact us for more information on planning your next Community Event
Other cool events we would love to share with you:
When you are planning other events throughout the calendar year, or you know someone who is planning an event that you can share our information with we are always so appreciative of referrals. You can view all of the different types of events we do throughout the year on our home page at the top of the page marked
Events Page
. We do all types of backyard style events like:
birthday parties
, first birthday parties,
toddler parties
, sweet 16 parties, teen parties, adults parties, bachelor parties, bachorlette parties, baby showers, Graduation Parties, Anniversary Parties, Vow Renewal Parties, Winter Parties, Summer Parties, Spring Parties, Fall Parties and more! Of course we do big party stuff like Corporate Parties, Carnivals, Festivals, Church Festivals,
School Carnivals
, Maydays,
College Events
, Corporate Picnics,
Mini Thon Events
,
Corporate Event Planning
, Corporate Holiday, Casino Parties, Water Park Events, Camps,
Fall Festivals
, Summer Festivals, Spring Festivals, and even Winter Festivals. The parties 3 Monkeys Inflatables provide are far and wide along with the ideas of different parties, and these are just one part of an assortment of the parties we do to help strike some ideas on all of our products. We have so many rental items that we just want to present the pertinent items to our customers that would be awesome at the type of party you are planning for. As always if we don't mention the type of party you are looking for, just reach out as we are always evolving our events list and adding more great party ideas to it regurarly.
Our Service Area for Community Event Rentals
3 Monkeys delivers community event rentals all across our core areas of Central Pennsylvania and Northern Maryland. Keep in mind we are willing to travel to farther locations as long as the delivery and order minimum fees are satisfied for that specific area. Some areas we typically provide community events for are in cities in PA like Red Lion, Shrewsbury, Dallastown, York, Lancaster, Harrisburg, Lititz, Manheim, Columbia, Millersville, Mechanicsburg, Spring Grove, and many more throughout the large area of Central PA. In Maryland, our primary areas are in the Northern part of Maryland like Baltimore, Street, Parkton, Hunt Valley, Timonium, and many more.
Driving Directions
York, PA
Harrisburg, PA
Lancaster, PA
Baltimore, MD
Reading, PA
& many more!
3 Monkeys Inflatables can provide you with driving directions from any of your locations if you want to come visit our shop and see where we store all of our inflatables. Please call to make a walk in appointment if possible to ensure someone is in the office and can show you around.

NOTE: Extra fees may vary depending on how far you are outside our service area.