Glow Games
Glow Game Rentals York, Pennsylvania Area
Blacklight Game Rentals in York, Lancaster, Harrisburg, and more!

3 Monkeys Inflatables offers a huge selection of glow-in-the-dark game rentals from Foam Parties, Mini Golf Blacklight, Wacky Golf, Oxygen Bar, Blacklight Dodgeball, Glow Air Brush, and many more! Our delivery area is pretty huge as we deliver to York, Lancaster, Harrisburg, Reading, Baltimore, Hershey, Camp Hill, Carlisle, Reading, Owings Mills, Frederick, Towson, Hagerstown, Wyomissing, and most of the PA and Northern Maryland area.
Glow Game Rental Information
To rent a glow game rental with 3 Monkeys Inflatables, simply pick the Blacklight Game Rental you are interested in renting by adding to your cart (don't forget about the tents, tables, chairs, concessions, and game rentals we have to add to your cart) and then simply add your booking details like your address, email, and phone number and complete the order with just a 25% deposit now with the remainder not being due until the day of your event. It's simple and easy! We have been been in business since 2013 so your order helps our small family business continue to thrive. Thank you! Call or email us with any questions.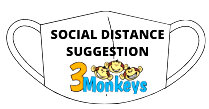 Glow Game Rentals with foam parties, mini-golf, oxygen bar, glow airbrush, and many more are great for social distance events as they are easy to do the cleaning in between participants when you have our attendants on duty. We clean and sanitize these products before and after the rental as well. We can set up these game rentals with a 6-foot cushion onto each of the rental products.
Call 717-650-7657 | 410-581-5867 or email: info@3monkeysinflatables.com
Support your local business! Please subscribe for fun & informative videos! https://www.youtube.com/c/3MonkeysInflatables
Glow Game Ideas

3 Monkeys Inflatables provides lots of products for Glow Parties. Glow Parties are popping up everywhere from College campuses, Post Prom Parties, Graduation Parties, to even backyard parties. They are so much fun to participate in and have a great look to them. We can create an amazing glow games party package for any type and size event you may be planning.
Glow Games is just a fancy way to say blacklight. They are great for glowing dance parties, or just about any excuse to throw a glow games (blacklight) party. They are great for teen birthday parties but also for holiday-type parties like Halloween, New Year's Eve, and July 4th Parties of course!


Blacklight

Blacklight Game Rentals are huge trending items right now They offer tremendous hype amongst the kid crowds, even the teenager and college students find this to be a trend-worthy event item! From popular items like the giant light brights, and crazy led mirrors, to airbrush tattoo, mini golfs, and foam parties there is no lack of entertainment in the blacklight options.
Copyright © . 3 Monkeys Inflatables LLC. All rights reserved. Red Lion PA (717) 650-7657