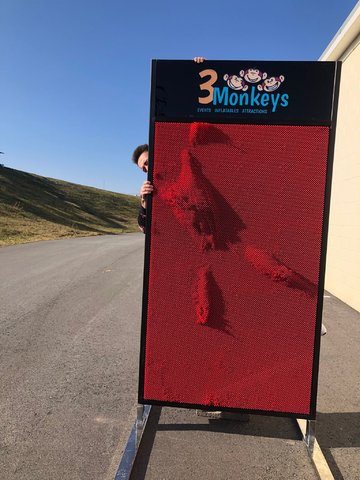 Pin Art
LIFE SIZE PIN ART BOARD
3 Monkeys Inflatables York Pennsylvania Life Size Pin Art Board and Unique Party Rentals
Our Life Size Pin Art Board is Giant in size and is something that is going to really excite your guests from the unique opportunity to play offering hours of fun for everyone! Take pictures of your amazing creations that you make of yourself or of your group!
How does the rental work?
This is for up to 3 hours. ($75 each hr after that) This also comes with an attendant. What's better than a Human size pin toy! Participants can safely press their face, hands, bodies, part of their bodies all against the pins to create the most amazing creations!
Think of all the idea's!
Post Proms
High School Events
Maydays!
Christmas Parties
and so much more!
Copyright © . 3 Monkeys Inflatables LLC. All rights reserved. Red Lion PA (717) 650-7657