Dallastown Bounce House & Water Slide Rentals
Rent a Bounce House in Dallastown, PA from 3 Monkeys Inflatables.
Dallastown Bounce House, Water Slide, & Party Rentals are perfect for backyard parties, birthday parties, Graduation Parties, Church Events, Business Grand Openings, and Anniversary Celebrations, Kids, teens, and Adult Parties, and get-together. They are perfect for keeping kids busy and active with jumping and playing with their friends at parties, celebrations, and just because which is the best kind of party in our opinion! We have obstacle courses to choose from which are really great for all ages and skill levels, you can race or just place and keep it active with them. The water slide rentals are popular amongst all age groups as well and often we find when we pick up parents are "playing with their kids" on the inflatables, and water slides because let's face it - it's fun and helps keep you active without realizing how much exercise you are getting. These are great for entertaining and exciting to see in your own backyard! We can even set up at
parks
, pavilions, fire stations,
townships, schools
, proms, graduations, and so much more!
Order-by-Date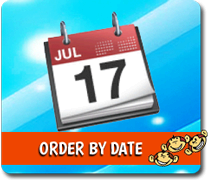 Bounce House Rentals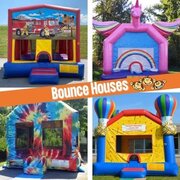 Combo Bouncer Rentals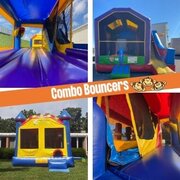 Water Slide Rentals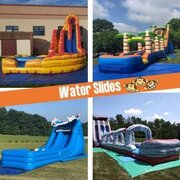 Inflatable Slide Rentals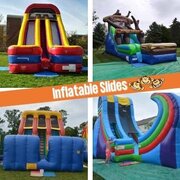 Toddler Inflatables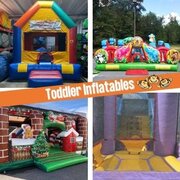 Obstacle Course Rentals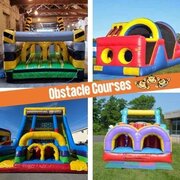 Extreme Interactives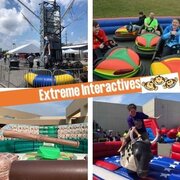 Giant Games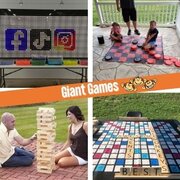 Carnival Games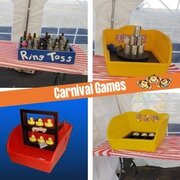 Foam Parties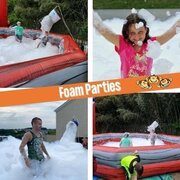 Tents Tables and More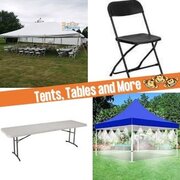 Casino Parties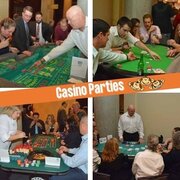 Escape Room Rentals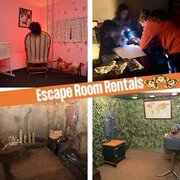 Virtual Reality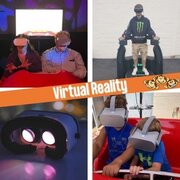 Make And Take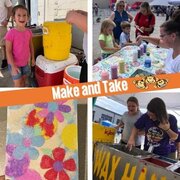 Event Equipment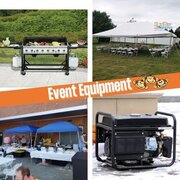 Picnic Foods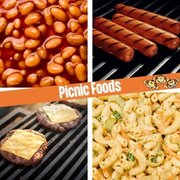 Glow Games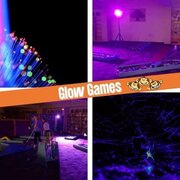 Staff Attendants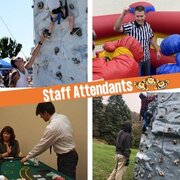 Holidays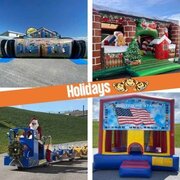 Packages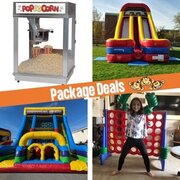 NEW-PURCHASES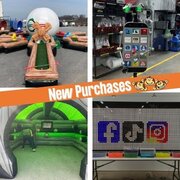 Digital Video Game Rentals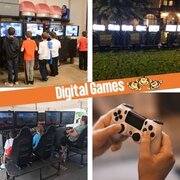 Dunk Tanks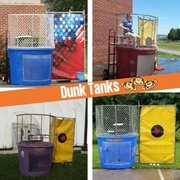 Photo Booths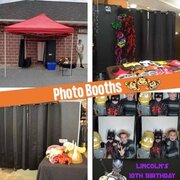 Entertainment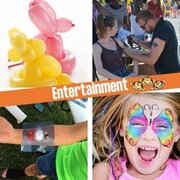 Concessions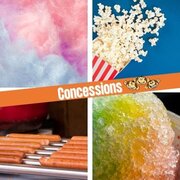 Advertising Inflatables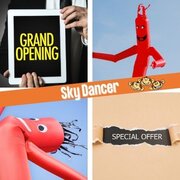 Xtreme Racing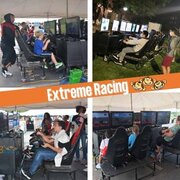 Movie Screens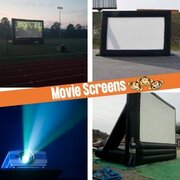 Gift Certificates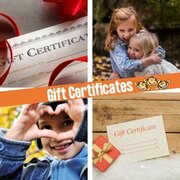 Mobile Axe Throwing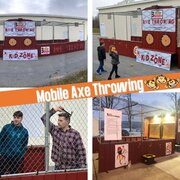 Golf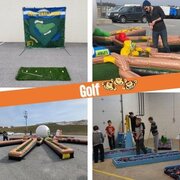 IPS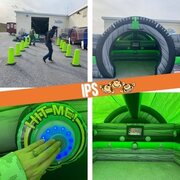 3 Monkeys Inflatables offers you a complete line of inflatables to rent such as our
bounce houses,
combos,
toddler
inflatables,
obstacles courses,
water slides, dry slides, mobile rock climbing, euro bungee,
Mobile axe throwing trailer, virtual reality roller coaster,
virtual reality games, concessions, tents, tables, chairs & more providing that one-stop-shop experience for all of the Dallastown party rentals needs. Rent a bounce house in Dallastown or choose a
water slide
rentals from our massive selection of inflatables.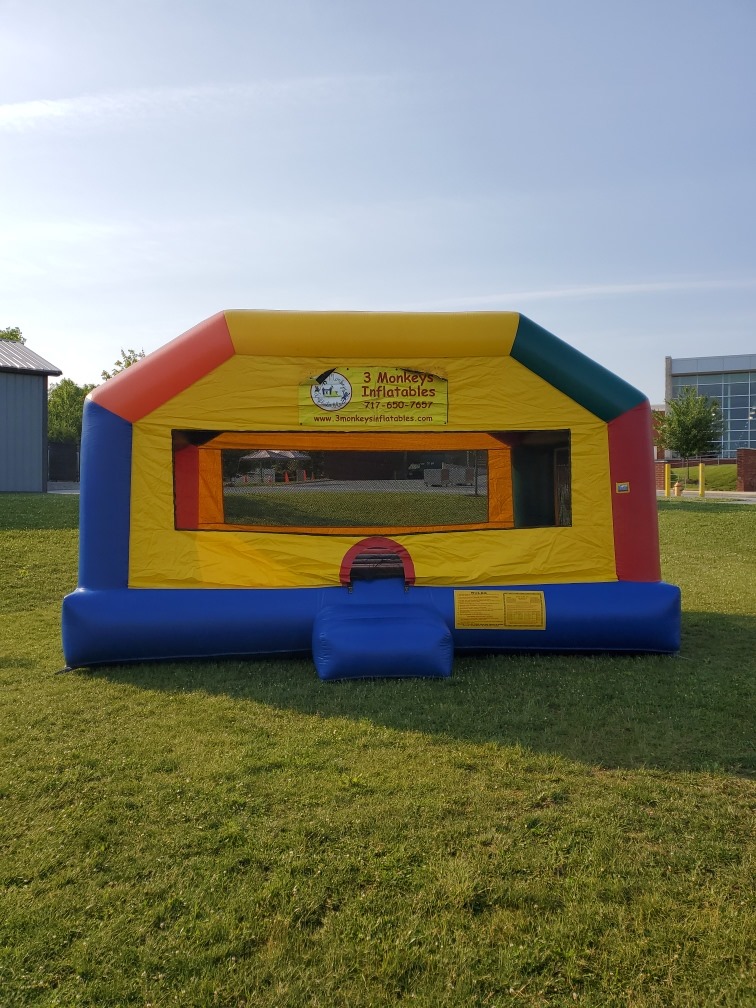 Dallastown Bounce House Rentals
Bounce House Rentals in Dallastown, PA are a great way to start any party or event! There's not a better way to make sure your party goes smooth than calling 3 Monkeys Inflatables. We are a "one-stop-shop" and have everything you need to ensure you have a great event! Our bouncer rentals provide hours of entertainment for a variety of ages. We work backyard birthday parties, school field days, church gatherings, corporate parties, weddings, and everything in between! No event is too large or small for our party event specialists. We even deliver to Dallastown's many beautiful parks!
Check out the Dallastown Parks and Recreation page for more details on reserving your spot at one of the pavilions.
Many are ADA accessible and even have electricity! If you find that you need a generator we rent those as well! Don't forget to grab one of our 10x10 Party Tent Rentals or Snow Cone Machine rentals
Rent a Bounce House in Dallastown, PA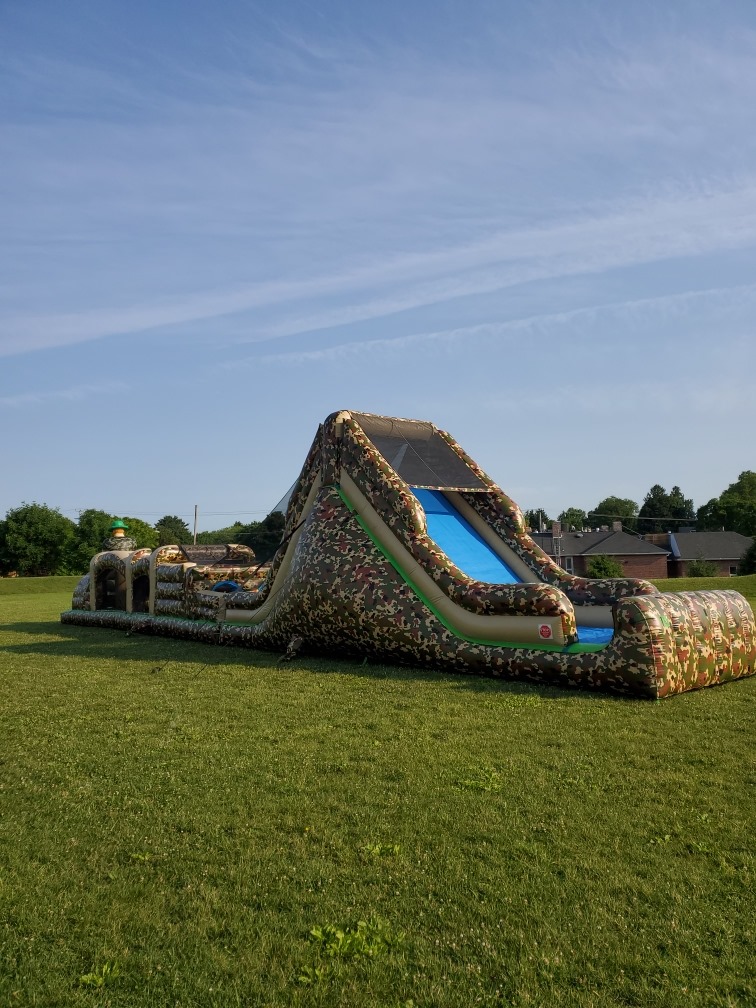 Obstacle Courses for Rent
Obstacle Course Rentals in Dallastown, PA are a great addition to any party! There is no better way to spend quality time with your family and friends than renting an obstacle course from 3 Monkeys Inflatable. Our great selection is all available to rent - Check them all out here. Our amazing selection allows you to find the perfect obstacle that will fit in your space. We have obstacle courses that will be a playground type style that kids/adults can go in and explore and take their time going through them or our most popular race obstacle styles like popular
Check out our 65ft Obstacle Course
as well as our Nuclear Series obstacle
Check out our Nuclear Explosion Obstacle
Rent an Obstacle Courses in Dallastown, PA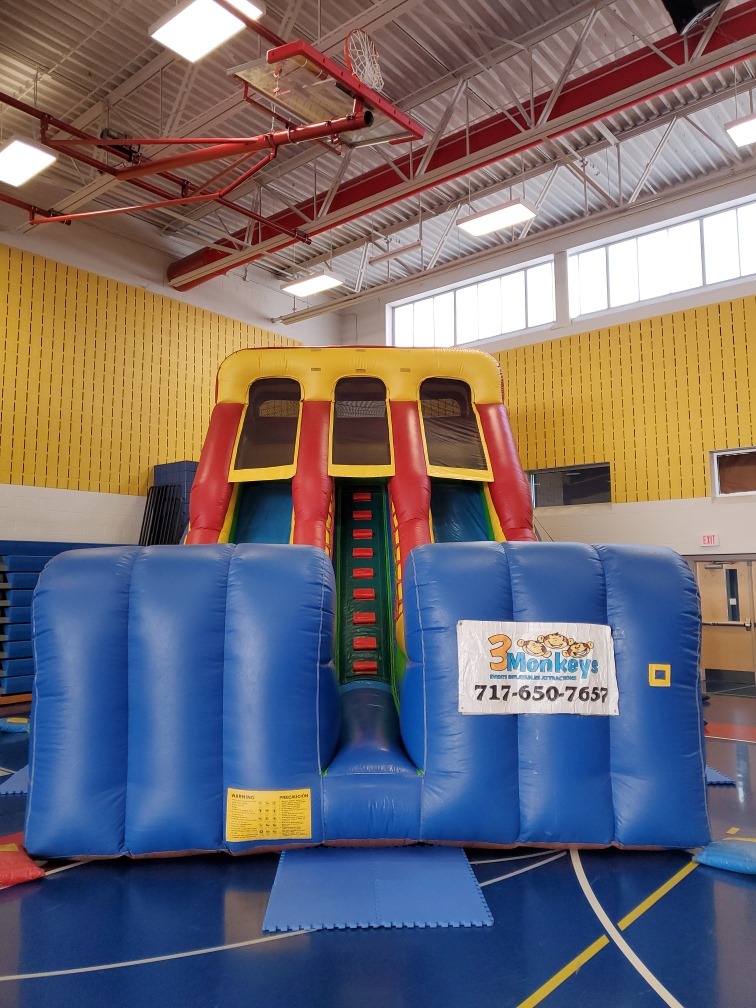 18ft Double Lane Dry Slide
Dry Slides and Waterslides are a must-have for any summer party in Dallastown, PA. Our Dry Slides are perfect for any type of backyard party, church event, post proms, school events, and just fun days!
We also have the most amazing Waterslide Rentals available
Click here to check them out here.
We have all sizes of slides from 16ft, 18ft, 19ft, 21, 22, and 27foot waterslides.
Rent a Slide in Dallastown, PA
If you are considering a bounce house rental or inflatable party rental at one of the
Dallastown parks,
do not forget to call the park & recreation website to reserve your spot. Be sure if you choose to rent from anyone other than 3 Monkeys Inflatables that you ensure the company you choose carries liability insurance and is registered with the state of PA ride safety division. For a list of viewing them here:
Dallastown Parks
, and facilities. You can also reach them here by calling (717) 244-6636.
3 Monkeys Inflatables has seen rentals of inflatables called so many different names like bounce houses, bouncy castles, moonwalks, bounce houses near me, jumpy thing, rental bounce houses, bouncy house, jumper jacks, bouncing castles, bouncing houses, jump houses, jumpers, and more! No matter what you choose to call them they are definitely without a doubt a fun activity that allows kids and adults to bounce! We always reach for the stars in what we do. We are fully insured, and state registered, along with having 3 registered state-approved inspectors on staff for bounce house rentals and safety as required by the state of PA. Our staff is trained comprehensively with both written, and on-site training and are held to the highest standards and accountability in the bounce house & party rental industry. Our mission is the be the best-rated rental company with reasonable pricing and amazing inventory while maintaining high standards and customer service care. Dallastown bounce house rentals, party rentals, and water slide rentals are delivered on time, and setup based on state/company guidelines so that you are able to enjoy your party and have the best event ever! Our customers are a big part of the reason we love what we do! We would love to add you as one of our Dallastown Bounce House and Party rental customers. Check us out on
google
as well.
If you are looking to stand out in the crowd, 3 Monkeys Inflatables offers the best selection of Dallastown Inflatable rentals with many different bounce house & inflatable rentals to choose from. 3 Monkeys Inflatables offers a complete line of rental products check them out
here
. Choose from Bounce Houses,
Inflatable Water Slides
, Combo Bounces
, Toddler Inflatables,
Obstacle Courses, Extreme Inflatables, Carnival Games, Giant Game, Rock Climbing Walls, Euro Bungee Trampoline, Golf Course, Trackless Kiddie Train
, Tents, Tables, Chairs, Concessions, backyard games, dunk tanks,
escape rooms, axe throwing, bumper cars, catering,
and so much more for your Dallastown Event Rentals. Complete Party Packages,
Movie Night Packages
, Carnival,
Social Distance Packages,
and
Grad Packages
so you can save time and rent multiple party items!
Game Rentals
Don't forget of course about our awesome game rentals like our
Ping Pong
Rentals, and
Giant Game
Rentals. They are must-add items to any type of party or event rental in Dallastown near me. We have so many different game rentals to choose from with Inflatable Games in all types of Sports, as well as Sports and Fun Frame & Bin Game Rentals, Unique and Electronic Game Rentals, and of course our Giant Game Rentals. We even feature Lawn Games and just the most bizarre games you will find on our website. Take a look around and see why Dallastown Game rentals is the #1 source for fun in Dallastown and surrounding area!
For our Dallastown customers, we offer a complete line of licensed and themed bounce house rental, as well as combo rentals. Our Bounce House rentals are cleaned and maintained perfectly to ensure your safety and satisfaction. 3 Monkeys Inflatables has everything you are looking for with all types of themes like our York Bounce House, Hot Air Balloon, Castle Bounce House, Big Stinka, Zombie, Tie Dye, Unicorn, 20x15 Bounce, Jungle Bounce, Batman, Superman, Pirate, Princess, Modular, Clown Bounce, Lancaster Mini Moonbounce, Holiday, Fire Truck, Dinosaur, USA, and more themes for your party rentals. Our Dallastown Bounce House Rentals options are endless. We offer a big selection of basic bounce house rentals in generic themes and gender-neutral as well to best fit your party or event rental needs. Bounce Houses offer a great fit for just about any type of event. We also have Tables, Chairs, tents, and Concession Rentals that you can add to your order. We offer a big selection of basic bounce house rentals in generic themes and gender-neutral as well to best fit your party or event rental needs. Bounce Houses offer a great fit for just about any type of event. We also have Tables, Chairs, tents, and Concession Rentals that you can add to your order.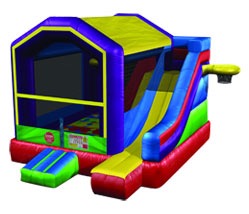 Dallastown Combo Rentals
Bounce House Combo rentals have quickly become a party and event must have and offers kids and even adults the different experiences of being active and engaging in play with varied experiences. At 3 Monkeys Inflatables, we pride ourselves on our oversized selection of bounce house rentals with many different styles to choose from. Our Combo rentals can be used dry for some of the choices, and others give you options of wet/dry which means they become water slide rentals along with your bounce area as well.
Dallastown Combo Rentals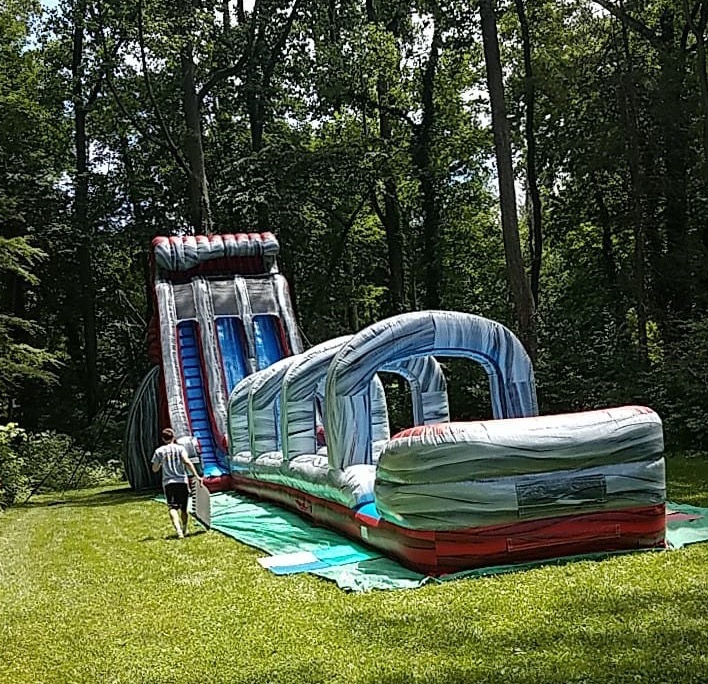 Water Slide Rentals Dallastown
Dallastown Area is known for loving the summer and enjoying playing on Water Slides with the family and kids. 3 Monkeys Inflatables provides all different sizes, shapes, and kinds of water slide rentals for rent in Dallastown, PA. We are your water fun leader in Dallastown providing both large 27ft water slide rentals to smaller 18ft water slide rentals, and everything in between. We even rent out wet/dry combo rentals, dunk tanks and have obstacle course rentals that feature a water slide feature! When you are having a party or event rental over the summer you know you want the best, safest waterslide rental and 3 Monkeys if the Inflatable Water Slide near me industry leader! Book your water slide rental online for up to 8 hours of playtime and even add it overnight for just an extra $40!

Our water slide inventory includes waterslide rentals for all ages so they are perfect for kids, teens, and even adult parties! You will not find a better selection of approved water slide rentals in Dallastown, PA.
Water Slide Rentals in Dallastown
Dallastown Obstacle Course Rentals
Are you looking to rent an obstacle course rental in Dallastown? Well, you are in luck because 3 Monkeys Inflatables has the largest Obstacle Course Rental inventory in Dallastown, PA. We have both race obstacles and playground obstacle rentals ranging from small backyard playground obstacles to huge playground obstacles and everything in between! We have race obstacle courses starting at 40 feet long and they go all the way up to 115 feet long, as well as some really giant obstacle courses that offer a huge footprint to just run, duck, and play throughout the day with the obstacle course challenges.
Delivery and Service Area
3 Monkeys Inflatables Bounce House and Party Rentals deliver to many other Pennsylvania and Maryland cities with service areas including York, Baltimore, Dover, East Prospect, East York, West York, Emigsville, Fawn Grove, Felton, Franklintown, Glen Rock, Goldsboro, Hanover, Hunt Valley, Jacobus, Lititz, Loganville, Manchester, Manheim, Mount Wolf, New Freedom, New Salem Borough, Reading, Wrightsville, Windsor, Seven Valleys, Shrewsbury, Spring Grove, Stewartstown,
Davisburg
, and many more. For a map and complete listing of the delivery area outside of Carlisle as well as pricing, visit our
delivery area
page.
Copyright © . 3 Monkeys Inflatables LLC. All rights reserved. Red Lion PA (717) 650-7657